European Parliament Lunch Debate
Towards a new Diabetes Resolution: The Time to Act is Now!
12 October, 11.00-13.00 - Room ASP 3H1
Event hosted by MEP István Ujhelyi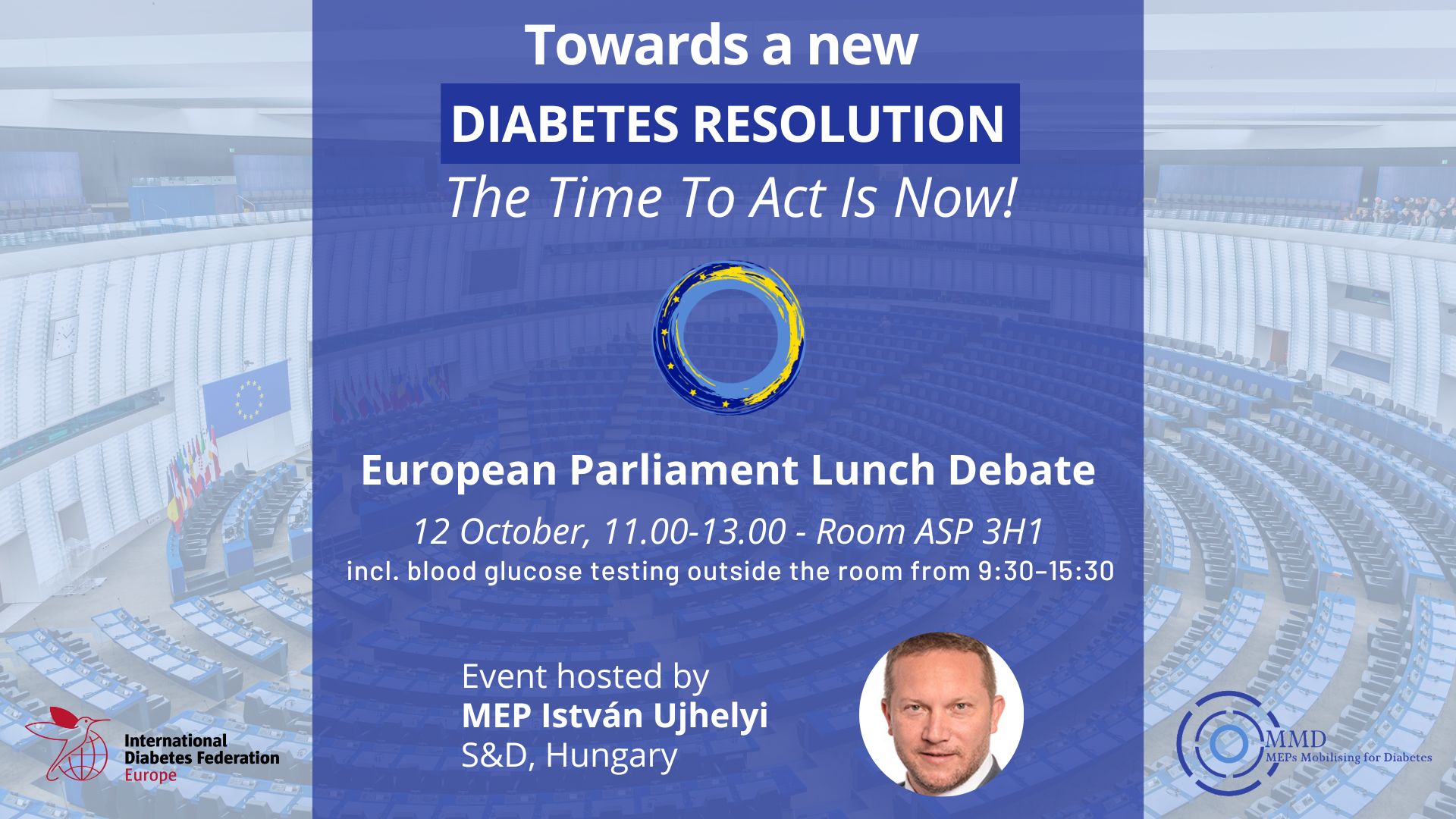 100 years after the discovery of insulin, 10 years after the first European Parliament Motion for a Resolution on Diabetes, the number of people living with diabetes (PwD) continues to rise, and many inequalities in access to care and treatment still persist across the European Union (EU). Diabetes, being the root cause of many major NCDs, must be addressed as an absolute priority.  It is an imperative prerequisite to building sustainable and resilient health care systems.
Ahead of World Diabetes Day 2022 and to mobilise political support for a new Diabetes Resolution, IDF Europe and MEPs Mobilising for Diabetes held a lunch debate at the European Parliament in Brussels, hosted by MEP István Ujhelyi. MEP Ujhelyi has been a long-standing supporter of the diabetes cause and a strong ally of the diabetes community.
During the event, diabetes advocates shared real life stories of living with diabetes and reflected on the urgent need for a new Diabetes Resolution in 2022 to improve diabetes care and build resilient and sustainable health systems. This was followed by an MEP panel discussion and a blood glucose testing outside the event venue.
Learn more about the rationale for a new Diabetes Resolution:
Click here
The event was moderated by Cajsa Lindberg, a public health advocate and IDF Europe adviser
Introduction and objectives of the meeting – MEP Istvan Ujhelyi (S&D, Hungary)
Why acting on diabetes is not simply a one-disease approach, but benefits all healthcare users through better designed healthcare systems – Chris Delicata, President of the Maltese Diabetes Association
Diabetes Resolution through storytelling of people living with diabetes

Diabetes advocate – Veerle Vanhuyse
Diabetes advocate – Cameron Keighron
Diabetes advocate – Konstantinos Tagkalos
Panel discussion – MEP views and PwD priorities for the new Diabetes Resolution

MEP Tomislav Sokol (EPP, Croatia)
MEP Romana Jerković (S&D, Croatia)
Chris Delicata
Veerle Vanhuyse
Cameron Keighron
Konstantinos Tagkalos
Closing remarks and call for MEPs to support the new Diabetes Resolution – MEP Istvan Ujhelyi