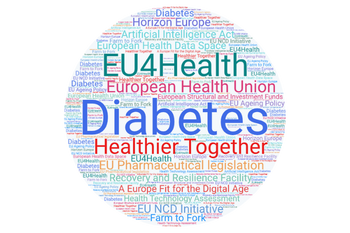 Webinar: Improving diabetes outcomes and quality of life for PwD - If not now, when?
On the Centenary of the Discovery of Insulin, the webinar explored the role and relevance of the newly-launched EU NCD initiative in tackling the burden of diabetes on EU health systems and societies to build back better.
Watch the webinar
In January 2022 we celebrate the centenary of the discovery of insulin. This was a major breakthrough that triggered many advances in diabetes treatments and therapies. Before insulin was discovered, people with diabetes did not live long and there was little doctors could do for them. Although this medical breakthrough has since saved millions of lives, much remains to be done to improve the quality of life and health outcomes of the 61 million people living with diabetes in Europe today.
There is still a general lack of awareness about the complexity and severity of diabetes among the general public, some health professionals and many policy makers. This reduces the visibility of the disease and fosters stigma and discrimination, both of which are a major hindrance to prevention and quality care.
Against this background, MMD interest group hosted a webinar on 25 January 'Improving diabetes outcomes and quality of life for People living with Diabetes: If not now, when?' High-profile diabetes experts and a young diabetes advocate shared insights on what it means to live with diabetes today and addressed the need for, and relevance of, a new diabetes narrative to build back better.
Dr Jill Farrington from the WHO/Europe office presented the Global Diabetes Compact and its implementation in Europe, with the vision of reducing the risk of diabetes and ensuring access to equitable, comprehensive, affordable and quality, treatment and care. Our co-chairs, MEP Christel Schaldemose and MEP Sirpa Pietikäinen, underlined that the time to act for diabetes is now and we must act across institutions, regions and countries to recognise the disease as a key priority and provide bold leadership to effect the necessary societal, structural and organisational changes. MEP Sirpa Pietikäinen underlined that the costs of diabetes are being incurred in the wrong place and 'there is an urgent need to prioritise diabetes awareness, prevention and care to improve health outcomes of a disease that affects 10% of the EU population.' MEP Christel Schaldemose added that currently there are many health proposals at the EU level that can considerably improve citizens' lives. 'I am optimistic because we can do more, and we should do more. Together with the MEPs Mobilising for Diabetes we will work to speed up the process and put diabetes higher up on the political agenda at the European Parliament.'
A wide range of EU policies that can support action on diabetes was presented during the webinar. However, the newly launched EU Non-Communicable Diseases (NCD) initiative – Healthier Together was of particular interest to speakers and the audience. The initiative aims to support Member States in their efforts to reduce the burden of NCDs such as diabetes, addressing socio-economic and environmental determinants of health. The diabetes community, together with the MMD interest group, will continue working closely with the European Commission, Member States and international organisations, to provide further input to the NCD Initiative and to co-create a Diabetes Policy Roadmap that will support Member States to build back better and fairer.
Our speakers in this event were:
MEP Christel Schaldemose, Member of the IMCO and AIDA committees and MMD Co-Chair
Ms Maartje Roskams, Diabetes Advocate
Professor Chantal Mathieu, EUDF President
Dr Niti Pall, IDF Europe Chair
Dr Jill Farrington, Coordinator for NCDs, WHO/Europe
Ms Sabine Dupont, Senior Policy Consultant, IDF Europe
MEP Sirpa Pietikäinen, Member of the ECON and FEMM committees and MMD Co-Chair
Watch the recording of the webinar: